About Surepoint ER
Why a Free-Standing ER
Get to know Surepoint ER! Surepoint is a 24/7 emergency center providing expert quality care to the community. Above all, we offer top-notch service with a team of highly-trained, quality doctors. In short, we're taking modern emergency care in the right direction. 
Our team provides an expert and efficient medical diagnosis for health issues such as minor injuries and fever to major cardiac issues and trauma situations and beyond. Please view our Services page for a complete list and get to know Surepoint ER. Finally, medical care that is both fast and also friendly.
We offer efficient and effective emergency care with a personal touch together with a smile.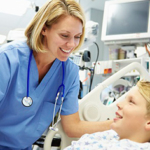 What Makes Us Different
Surepoint ER envisions a healthier and safer community by providing top-notch medical services to our communities with little to no wait time. In addition to adult emergency medical care, we offer emergency services for children as well. We feature the best facilities and equipment, coupled with the ability to provide the care you need in the middle of the day or the middle of the night. We are sure when you get to know Surepoint ER, you will see why we should be your go-to emergency source.
The service you need now
We believe in a little to no wait philosophy and we know when you get to know Surepoint ER, we'll give you the best diagnosis and treatment possible with the help of:
Proud Sponsors and Contributors of: