Surepoint Emergency Center Rowlett
Walk-ins Welcome
No Appointments Necessary
Open 24/7
Address
3301 Lakeview Parkway
Rowlett, TX 75088
Contact Us
Fax: (469) 304–0258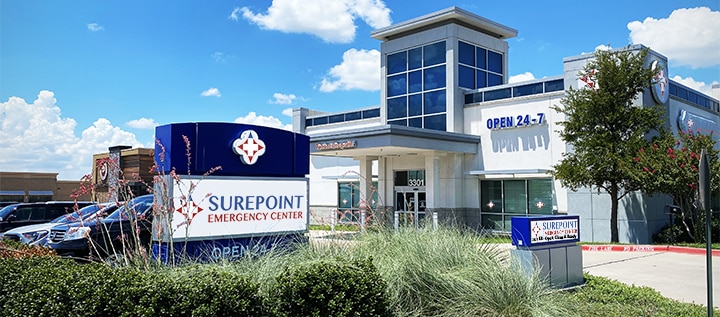 About Surepoint Emergency Center in Rowlett, TX
Looking for an emergency room near you? Look no further than Surepoint Emergency Center in Rowlett. Surepoint Emergency Center in Rowlett, TX is an emergency room, open 2/47, that delivers high-quality care in situations such as minor injuries, cardiac and trauma cases, and more. As the closest 24 hour emergency room, we're equipped to handle a wide range of health conditions during emergencies, including on-site labs and radiology. With no appointments required, and little to no wait time, Surepoint Emergency Center is the best emergency center in Rowlett.
What Our Emergency Center Patients Have To Say. . .
My husband went to Surepoint ER two days ago and was treated so well. The whole team from the front desk, doctor, nurse and CT tech worked as a team and truly cared about my husband. To top it off the ER doctor just called to check on my husband. You don't get better than that. What a great team!

This ER is consistent and its staff is compassionate and helpful. My family feels well taken care of at Surepoint and it is why we always come back here when necessary. The doctors, nurses, and front office staff are kind and expedient. I am most appreciative of Surepoint ER.

Why Choose Surepoint Emergency Center in Rowlett, TX?

Expertly Trained Nurses and Doctors

Conveniently Located. The ER That's Close to You

24/7 Emergency Center. Little to No Wait Time

In-house Lab and Radiology
No one likes a waiting room, especially during a medical emergency. That's why Surepoint Emergency Center in Rowlett welcomes walk-ins, no appointment required, with little to no wait times. As the emergency room nearest you and our onsite lab and radiology services, we are known as the best emergency center in Rowlett and surrounding areas. No matter the emergency, we are committed to delivering timely, trustworthy, and one-on-one medical care when you need it most. You can be sure with Surepoint Emergency Center in Rowlett.
At Surepoint Emergency Center in Rowlett, TX, we pride ourselves on delivering quality emergency care with as little wait time as possible. Our 24/7 emergency clinic is staffed with highly trained medical professionals who are dedicated to providing compassionate and efficient patient care in critical situations. We understand that time is of the essence when it comes to emergencies, which is why we offer cardiac services, general medical services, radiology and laboratory services, and trauma and neurological services, all under one roof.
Personal care with little to no wait time… right in your neighborhood.
Our team of experienced doctors and nurses is ready to help you 24 hours a day, 7 days a week. Meet the Rowlett pain management specialists below.
Justus Peters, MD
Medical Director
Alexa Stoner
Nurse manager