Surepoint Emergency Center Denton
Walk-ins Welcome
No Appointments Necessary
Open 24/7
Address
2426 Lillian Miller Parkway
Denton, TX 76205
Contact Us
Fax: (940) 218–6715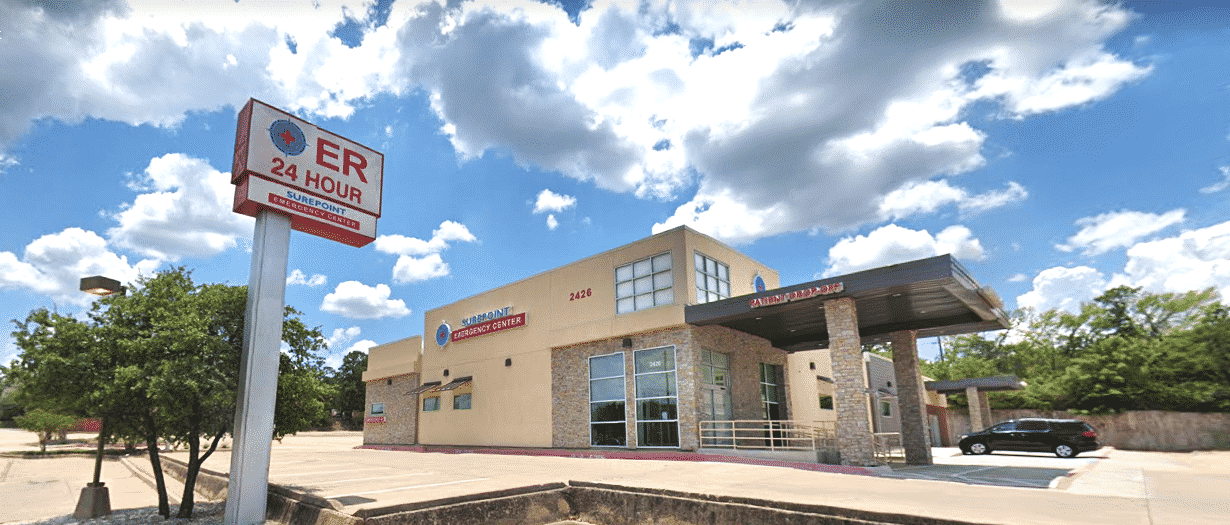 About Surepoint Emergency Center in Denton, TX
Surepoint Emergency Center is a leading 24/7 emergency clinic that provides exceptional medical emergency care to the Denton, TX community. We understand that critical health emergencies can happen at any time, and that's why our team of seasoned emergency care professionals strive to deliver the highest quality patient care with little to no wait time. Our Denton emergency room is equipped with advanced diagnostics and imaging technology, including on-site labs and radiology, to better diagnose and treat a range of health conditions including minor injuries and major traumas. Surepoint Emergency Center – Denton staff is ready to help you when you need it most.
What Our Emergency Center Patients Have To Say. . .
Best ER facility I have experienced. The doctor was thorough and knowledgeable. The nurse was great and gave my wife a needle she didn't even feel (and also brought water and a blanket).The X-ray text was professional and efficient and the front desk attendant handled all the administrative items efficiently and communicated well. Only ER/urgent care I will go to going forward (after going to two that were not good)

The service here was fantastic, the wait was not long at all compared to other free standing 24 hr ER's. The staff were very welcoming, considerate, and they make it known from the start that they are here for you and want to take care of you. This was my first time coming to SurePoint and it was the best experience I've ever had. I would definitely recommend everyone to come check them out because they did a fantastic job of taking care of me.

Why Choose Surepoint Emergency Center in Denton, TX?

Expertly Trained Nurses and Doctors

Conveniently Located. The ER That's Close to You

24/7 Emergency Center. Little to No Wait Time

In-house Lab and Radiology
In a medical emergency, every second counts. That's why Surepoint Emergency Center in Denton offers 24/7 care with little to no wait time. Whether you're experiencing minor discomfort or a major trauma situation, we're ready to provide timely, reliable, and one-on-one medical care when it matters most. Our team of emergency care specialists is dedicated to offering the best possible diagnosis and treatment, personalized to your specific needs. If you're experiencing an emergency, choose the leading Denton emergency room, Surepoint Emergency Center.
When it comes to emergency medical care, dependability and convenience are key. At Surepoint Emergency Center in Denton, TX, we take pride in providing our community with the highest standard of care around the clock, with no appointment required. Our wide range of medical emergency services encompasses general medical care, radiology and lab services, cardiac assistance, as well as trauma and neurological support. If hospitalization is required, we can also immediately admit patients to nearby hospitals and arrange private ambulance transportation./span>
Personal care with little to no wait time… right in your neighborhood.
At Surepoint Emergency Center in Denton, our team of seasoned medical professionals is committed to providing you with comfort, support, and peace of mind during emergency situations. Our unwavering dedication to ensuring your health and well-being is a top priority, and we strive to help you leave our facilities feeling your best. Meet the skilled Denton emergency room team that makes it all happen.
Justus Peters, MD
Medical Director
Alexa Stoner
Nurse manager