Resources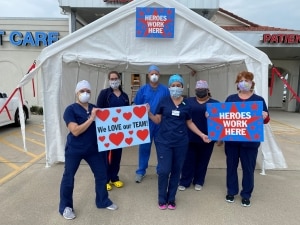 CORONAVIRUS (COVID-19) INFORMATION
What Surepoint is Doing to Protect our Patients During the COVID-19 Outbreak
Surepoint's top priority is the health and safety of our staff, patients, and community. We have put certain procedures in place for your protection during the COVID-19 outbreak.
Sanitizing of equipment daily at all of our facilities
Gloves, masks, goggles, and other PPE provided for staff
Telemedicine services for primary care patients at our Family Medicine clinics
---
What to do if you have symptoms
If you currently have symptoms of respiratory illness including fever, cough, and shortness of breath, you can call first or come to the nearest Surepoint Emergency Center and we will evaluate and/or treat you. Click here for our 
locations
.
For extra protection of our patients and staff, we ask that you call from your car when you arrive and wait for a staff member to come out to you. Our physician will evaluate your symptoms and determine if you need COVID-19 testing. From there, we will prescribe the proper treatment.
---
What to do if you have other illnesses, injuries or pain, unrelated to COVID-19
If you have other symptoms of illness, injury, or pain, not related to COVID-19, we ask that you follow the same arrival process and we will treat you within our standard procedures while protecting you from other patients. We are still treating ALL medical emergency needs and can evaluate you safely from your car and then prescribe treatment.
As always, we are open 24 hours a day, 7 days a week, 365 days a year to serve your emergency needs.
---
What you can do on your own
Coronavirus spreads through contact with respiratory droplets caused by coughing and sneezing or by touching a surface that has been in contact recently with an infected person. You should use these same prevention methods as you would normally to avoid a common cold or the flu:
Wash your hands often with soap and water for at least 20 seconds, especially after going to the restroom, touching doorknobs or other public surfaces, before and after eating, and after blowing your nose, coughing, or sneezing
Try to avoid touching your face, primarily your eyes, nose, and mouth
Avoid close contact with people who are sick
Stay home, especially if you are sick, have underlying health issues, or have a compromised immune system. If your symptoms worsen, call or come to a Surepoint ER near you.
Practice social distancing and stay 6′ away from the nearest person when you're outside or in a public place. The CDC advises that you wear a mask and gloves for protection
---
Continued Support
We will continue to work with city and state officials, as well as the CDC, to battle this virus in our community. Thank you for your continued support and stay safe!
Learn more about Surepoint Medical Centers – Watch Video
QUICK LINKS