Patient Resources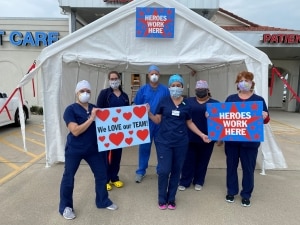 If you or a loved one is experiencing a medical emergency, we want to help. That's why we've created a collection of information, videos, and articles to assist in eliminating the "what if's and unknowns that can make an already stressful emergency situation even more challenging.

Expertly Trained Nurses and Doctors

Conveniently Located. The ER That's Close to You

24/7 Emergency Center. Little to No Wait Time

In-house Lab and Radiology
When you're in a medical emergency, the last thing you want to be doing is waiting around in a stale room. You need fast, reliable medical care. That's why Surepoint Emergency Center in Arlington believes in little to no wait times. Our emergency care specialists can provide you with the best diagnosis and treatment possible, tailored to your specific situation. We are committed to delivering timely, trustworthy, and one-on-one medical care when you need it most. You can trust Surepoint Emergency Center in Arlington to help you get back to your healthy life.