Gardening is an exercise.
With more people staying home, the popularity of gardening is growing like a weed. And we're starting to see the physical benefits behind gardening as well!
Getting a perfect organic tomato or a gorgeous rose from your own garden can give you a feeling of an amazing accomplishment. Even growing a misshapen pepper or a daisy can make you proud. But did you know that gardening is a good workout, too?
You might not realize you're lifting weights when you lug a bag of mulch or fertilizer or know that you're doing stretches when you weed your flowerbed, but your body does.
According to the Centers for Disease Control, gardening is considered moderate exercise, and working out, even moderately, for 2 ½ hours per week can reduce the risk of obesity, high blood pressure, type 2 diabetes, osteoporosis, heart disease, stroke, depression, and colon cancer. And people who garden are more likely to have longer periods of activity than people who walk or bike. There's always one more weed to pluck or plant to water.
Moderate exercise, like gardening, burns approximately 330 calories per hour, even more than walking at a moderate pace for the same amount of time, according to the CDC. And once you start the big stuff, like shoveling and digging, you move into vigorous exercise, which burns even more calories.
Being outside in the sunshine also helps boost your Vitamin D, which helps your body absorb calcium, essential for bone formation.
After all that exercise and fresh air, gardeners are more likely to get seven hours of sleep than people who don't exercise, according to research from the University of Pennsylvania.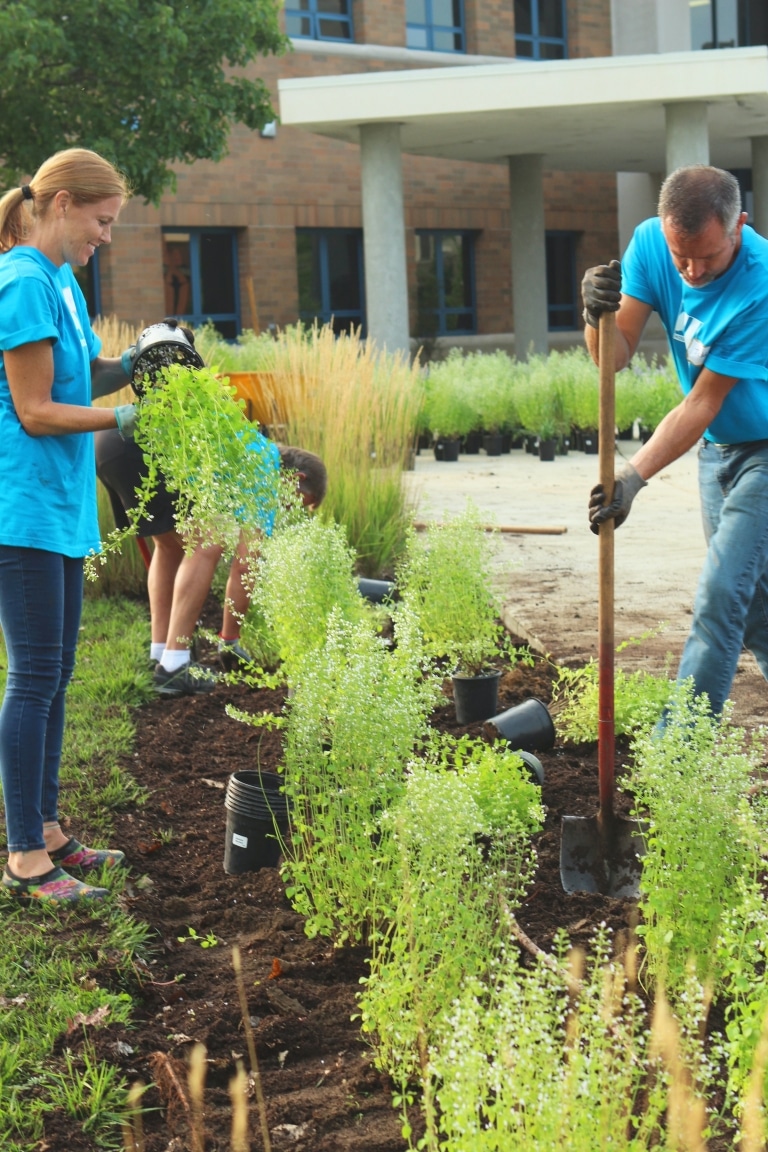 Gardening is self-care, not lawn care
Working in the garden can also relieve stress, reduce anxiety, and help build your self-esteem. Turns out that getting dirty has health benefits. Inhaling M. vaccae, a healthy bacteria that live in soil, boosts serotonin, and a sense of well-being.  A 2006 study by the National Library of Medicine showed that daily gardening can even reduce the risk of dementia. Some hospitals use planting and flower arranging as rehab for people recovering from strokes, surgeries, or injuries.
Working in the garden can also bring you closer to your spouse and your kids. My kids always liked the planting and the picking, but not so much the weeding. They also were more likely to eat what we grew in the garden. The youngest even started developing his own salsa recipes using our tomatoes and peppers.
Everyone will feel better knowing what they're eating, where it came from, and that it hasn't been exposed to chemicals.
By Amanda Rogers for Surepoint Medical Centers
---
Amanda Rogers is a freelance writer based in Fort Worth, Texas
Surepoint Emergency Center is a modern emergency medical facility open 24/7/365. As an alternative to the traditional hospital ER experience, we offer convenience and minimal wait time, along with highly-trained emergency medical staff and state-of-the-art equipment.
Our top priority is bringing high-quality emergency care, quickly and easily to your family. We are committed to making patients feel better faster in a comforting and compassionate environment.
Efficient and Effective care with a personal touch.